I have long legs.
It means that I'm often letting down the hem of pants so they fit better. I finally asked for a sewing machine to help me with this task, because I wasn't doing a very good job. Then I made a table cloth for our long table. It was fun...so I decided to make a quilt for our bed. It was enjoyable enough to make another. I thought about stopping at this point, but I happened upon the blogging community and haven't looked back since.
Here are the things I've finished this year.
A few more (random) things about me:
*I have my masters degree in mechanical engineering but am currently a stay-at-home mom.
*I'm a Christian. My favorite verse is from Philippians - "Rejoice in the Lord always; I will say it again, Rejoice!"
*I really like to be organized, although my sewing area doesn't portray that very well.
*I like to read, play board games, video games, and Frisbee. (The current video game is mine craft. I'm breeding bees while my husband does all the hard work to make our base usable.)
Here are some of the standard Q&A from Beth.
*How long have you been quilting? About three years.
*Favorite quilting tip(s)? Listen to your sewing machine
*Favorite blogging tip(s)? Put a link at the top to show your finishes. (Also, I really like it when I can read the whole post in Google reader.)
*Favorite fabric (or wish list fabric)? Bright solids at the moment.
*Book you are currently reading? I'm reading "Magician: Master" and the Little House on the Prairie series.
*
Favorite quilting tool? The rotary cutter. I cut my first quilt out with a scissors because I didn't want to invest much if I didn't enjoy it and it took so long.
*Favorite music to listen to while quilting? Actually, I quilt by the computer so I usually have Netflix playing.
* Binding - by hand or by machine? Machine. I did a doll quilt by hand and it was not pretty.
I have a reversible coaster tutorial for today.
Total fabric requirements: 13" x 4.5" in three different colors
Cut the following from each of three different fabrics:
*6 of 4.5" x 1.5" strips
*4 of 4.5" x 1" strips
Sew them together using a 1/4 seam so that you have every color combination as shown in the picture. (The picture is organized by middle stripe. The left two have a light purple middle stripe, the ones in the middle have a dark purple, and the ones on the right have a white stripe.)
I finished my coasters using a similar method to the tutorial from
Throw a Wrench in the Works
. Put two blocks right sides together. (I put all the blocks with the same middle stripe together as shown above.) Put a piece of batting the same size as the coasters (4.5"x 4.5") on one side. Sew a 1/4 seam around the outside, leaving a 2" hole in the center of one side for turning it right-side out. Before I turned it right-side out, I trimmed the corners to reduce some of the bulk. I then did a small topstich around the outside and was done!
Thanks again to Beth for hosting this blog hop!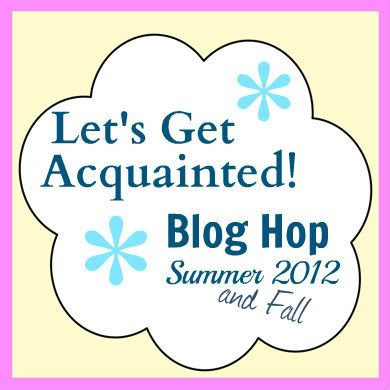 Make sure to visit the others this week too! Amanda from
Material Girl Quilts
today and
Vicky from Vicky K Creating and Francine from Mocha Wild Child on Thursday.